| Name | Version | md5sum | Date |
| --- | --- | --- | --- |
| hashcat | v0.50 | 53a9b867b34c30b51b2f1c70477bdbd8 | 2015.06.05 |
Features
Multi-Threaded
Free
Multi-Hash (up to 24 million hashes)
Multi-OS (Linux, Windows and OSX native binaries)
Multi-Algo (MD4, MD5, SHA1, DCC, NTLM, MySQL, ...)
SSE2, AVX and XOP accelerated
All Attack-Modes except Brute-Force and Permutation can be extended by rules
Very fast Rule-engine
Rules compatible with JTR and PasswordsPro
Possible to resume or limit session
Automatically recognizes recovered hashes from outfile at startup
Can automatically generate random rules
Load saltlist from external file and then use them in a Brute-Force Attack variant
Able to work in an distributed environment
Specify multiple wordlists or multiple directories of wordlists
Number of threads can be configured
Threads run on lowest priority
Supports hex-charset
Supports hex-salt
90+ Algorithms implemented with performance in mind
... and much more
Hashcat Screenshot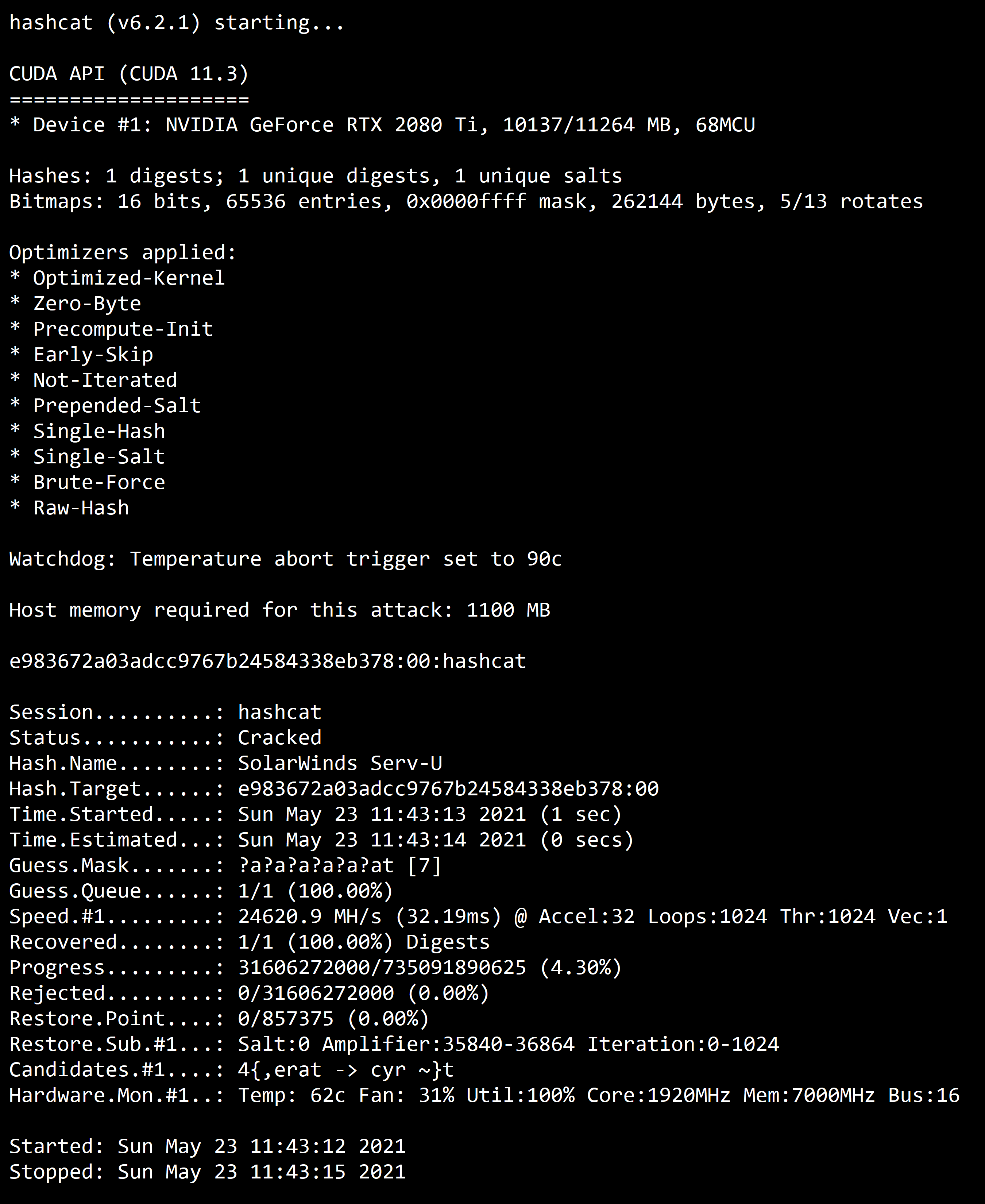 Attack-Modes
Straight *
Combination *
Toggle-Case
Brute-Force
Permutation
Table-Lookup
PRINCE
* accept Rules
Algorithms
MD5
md5($pass.$salt)
md5($salt.$pass)
md5(unicode($pass).$salt)
md5($salt.unicode($pass))
HMAC-MD5 (key = $pass)
HMAC-MD5 (key = $salt)
SHA1
sha1($pass.$salt)
sha1($salt.$pass)
sha1(unicode($pass).$salt)
sha1($salt.unicode($pass))
HMAC-SHA1 (key = $pass)
HMAC-SHA1 (key = $salt)
MySQL323
MySQL4.1/MySQL5
phpass, MD5(Wordpress), MD5(phpBB3), MD5(Joomla)
md5crypt, MD5(Unix), FreeBSD MD5, Cisco-IOS MD5
MD4
NTLM
Domain Cached Credentials, mscash
SHA256
sha256($pass.$salt)
sha256($salt.$pass)
sha256(unicode($pass).$salt)
sha256($salt.unicode($pass))
HMAC-SHA256 (key = $pass)
HMAC-SHA256 (key = $salt)
md5apr1, MD5(APR), Apache MD5
SHA512
sha512($pass.$salt)
sha512($salt.$pass)
sha512(unicode($pass).$salt)
sha512($salt.unicode($pass))
HMAC-SHA512 (key = $pass)
HMAC-SHA512 (key = $salt)
SHA-512(Unix)
Cisco-PIX MD5
Cisco-ASA MD5
WPA/WPA2
Double MD5
bcrypt, Blowfish(OpenBSD)
MD5(Sun)
md5(md5(md5($pass)))
md5(md5($salt).$pass)
md5($salt.md5($pass))
md5($pass.md5($salt))
md5($salt.$pass.$salt)
md5(md5($pass).md5($salt))
md5($salt.md5($salt.$pass))
md5($salt.md5($pass.$salt))
md5($username.0.$pass)
md5(strtoupper(md5($pass)))
md5(sha1($pass))
Double SHA1
sha1(sha1(sha1($pass)))
sha1(md5($pass))
MD5(Chap), iSCSI CHAP authentication
sha1($salt.$pass.$salt)
SHA-3(Keccak)
Half MD5
Password Safe SHA-256
IKE-PSK MD5
IKE-PSK SHA1
NetNTLMv1-VANILLA / NetNTLMv1-ESS
NetNTLMv2
Cisco-IOS SHA256
Android PIN
AIX {smd5}
AIX {ssha256}
AIX {ssha512}
AIX {ssha1}
GOST, GOST R 34.11-94
Fortigate (FortiOS)
OS X v10.8+
GRUB 2
IPMI2 RAKP HMAC-SHA1
sha256crypt, SHA256(Unix)
Drupal7
WBB3, Woltlab Burning Board 3
scrypt
Cisco $8$
Cisco $9$
Radmin2
Django (PBKDF2-SHA256)
Cram MD5
SAP CODVN H (PWDSALTEDHASH) iSSHA-1
PrestaShop
PostgreSQL Challenge-Response Authentication (MD5)
MySQL Challenge-Response Authentication (SHA1)
SIP digest authentication (MD5)
Plaintext
Joomla < 2.5.18
PostgreSQL
osCommerce, xt:Commerce
Skype
nsldap, SHA-1(Base64), Netscape LDAP SHA
nsldaps, SSHA-1(Base64), Netscape LDAP SSHA
Oracle S: Type (Oracle 11+)
SMF > v1.1
OS X v10.4, v10.5, v10.6
EPi
Django (SHA-1)
MSSQL(2000)
MSSQL(2005)
PeopleSoft
EPiServer 6.x < v4
hMailServer
EPiServer 6.x > v4
SSHA-512(Base64), LDAP {SSHA512}
OS X v10.7
MSSQL(2012 & 2014)
vBulletin < v3.8.5
PHPS
vBulletin > v3.8.5
IPB2+, MyBB1.2+
Mediawiki B type
WebEdition CMS
Redmine Project Management Web App
Tested OS
All Linux, Windows and OSX versions should work on both 32 and 64 bit
Performance
Windows 7, 64 bit
Phenom II X6 T1090 @ 3.8 Ghz
hashcat v0.40, 64 bit
Name
MD5
1 hash
NTLM
500k hashes
phpass
1 hash
hashcat (8 threads)
86.24M c/s
71.17M c/s
49.67k c/s
hashcat (1 thread)
12.90M c/s
10.58M c/s
7.79k c/s
Ubuntu 12.04.2 LTS, 64 bit
AMD FX(tm)-8120 Eight-Core Processor
hashcat v0.46, XOP version
Name
SHA1
1 hash
NTLM
500k hashes
MySQL
1k hashes
hashcat (8 threads)
73.97 MH/s
79.83 MH/s
116.47 MH/s
hashcat (1 thread)
16.66 MH/s
15.15 MH/s
19.83 MH/s
Help
A detailed description of all commandline parameters is available by using --help. Hashcat is explained in some of the videos and in the forums. If you encounter a bug, report it in the forums where fixes and beta versions are announced as well.
Download older versions
This is a list of older hashcat versions, it's not always bad to grab the latest version.
| Name | Version | md5sum | Date |
| --- | --- | --- | --- |
| hashcat | v0.49 | 370d4e92f0ae8b7ce696afa852e91aea | 2015.01.05 |
| hashcat | v0.48 | 620790f469e41ca8f3f6897ed958c8c0 | 2014.11.01 |