We got a few more Tyan chassis in today, so we were finally able to test multiple 7990s in a proper server chassis.
Our setup was simply 4x XFX FX-799A-XNF9 in a Tyan B7015F77V4R, leaving a 2-slot gap in between each card.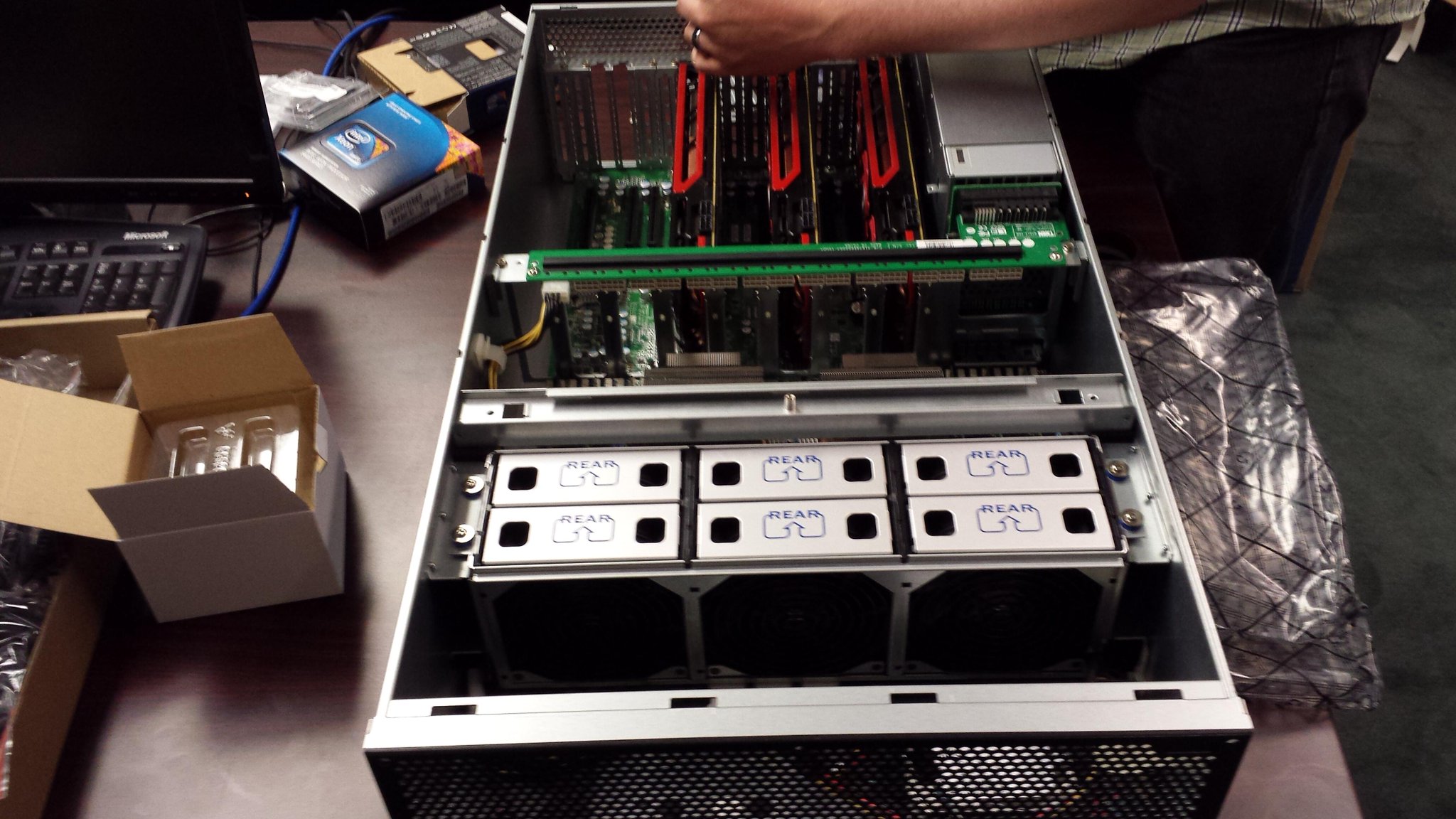 These cards are advertised as being clocked at 950 Mhz core / 1375 Mhz memory, but they actually come out of the box running at 1000 Mhz core / 1500 Mhz memory.
In the Tyan chassis, the cards idle at 27C - 30C. Nice and chilly. This is opposed to 40C at idle in the desktop chassis. So we're off to a good start already -- or are we?
As I mentioned in my previous review, the 7990 only works with Catalyst 13.6 beta. However, I only tested a single card in my last review. I expected everything to be the same with multiple cards, just as it's been for recent previous versions of Catalyst. So you can imagine my surprise when I fired up lite, and saw that it was only using one GPU. You know what this means...
That's right folks, we're back to using dummy plugs!
For some reason, AMD regressed to requiring a monitor be hooked up to each card in order to use it for compute in 13.6. Hopefully this will once again be resolved in 13.7, but for now, I'm glad I kept all my dummy plugs after AMD promised they would no longer be necessary. Filthy liars.
After digging through a stack of boxes to find my vast dummy plug collection, I popped one onto each card and restarted X. Bingo, we now have compute on all 8 GPUs.
So here's the part you've all been waiting for...
What is the speed like? Exactly the same as 8x 7970 Ghz Edition.
What were the temps like? I'll tell you, friends: 75C all day long.
Well not exactly, but damn close. Under full load I saw temps as low as 60C, and a couple times the cards hit 80C, but for the most part, they stayed right in the mid 70s. Which is perfect, that's right where we were hoping to be. Suck it, radix!

And mind you these cards are overclocked, the temps would be even more acceptable if we ran them at the stock 7970 clocks.
So in summary,
7990 + desktop = bad
7990 + high-end server = fantastic
And don't forget your dummy plugs.