Hi, I'm new here, you can probably tell by my post count haha I'm not one to usually ask for help, I like to use trial and error and figure things out for myself. I'm seriously stuck though ... lol
I've been watching and following tutorials on youtube and reading up on hashcat for the past 8 to 9 hours (with smoke breaks every time I get frustrated lol).
I finally got it to start working, I left and came back 30mins later and the progress was so slow. I decided to stop and restart my PC to see if that helped. Ever since I haven't been able to start it again.
ANY help at all will be appreciated, remember, I am completely new to this and have only started today. I've read the whole wiki page word for word almost. (I did a little skim reading on things I didn't feel I needed to know.)
Here's a screen shot of my cmd prompt (You'll see what I typed and the progress)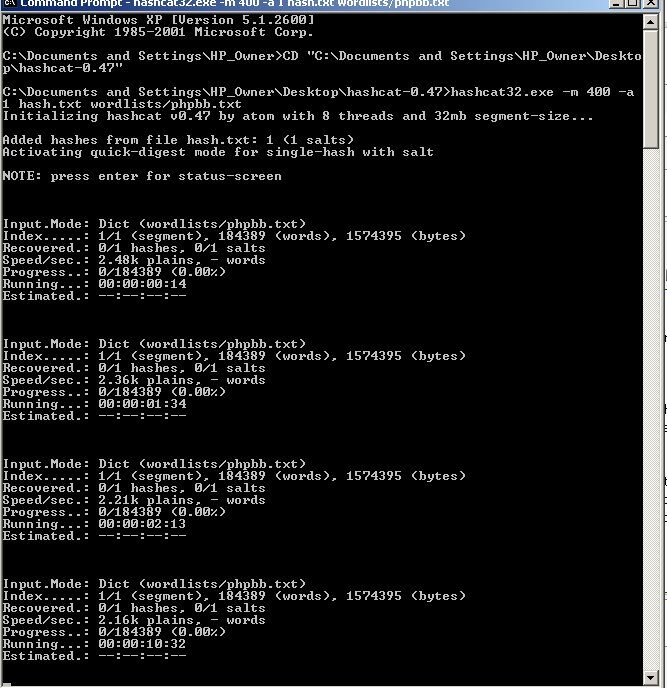 I apologise if this problem has been answered over and over again, I couldn't find anything helpful when I did a quick search of the forums and I got a little inpatient with myself. Again, thank you in advance!
-- (I forgot to mention, I am searching such a small 'wordlist file' in the screen shot hoping it was the larger file, that I used previously, stopping it from starting) -- (I am also only trying to crack 1 phpbb hash because I read; ' the more hash's you run, the slower it is' ) --